Formerly - Rick & the Cutting Edge!
THE EDGE is Northeast Ohio's Premier Live Ba
nd
!
Our band offers Unparalleled Music & Entertainment for all Occasions!

...f
eaturing dynamite, br
eath-taking lead v
ocals led by the classy, lovely and multi-talented Suzanne Gibson. Tight
bass grooves laid do
wn
by bassist and
vocalist, Bob Miller...the wailing, smooth and sexy sounds produced by sax-man Mike Molchan, toe-tappin' beats with uncanny
, unma
tche
d precision by drummer/percussionist, Jeff Kennat, and hot and intricate guitar leads played by the entertaining and energetic Mike Wypasek. Now add the sounds of amazing brass stabs, organ, piano, and st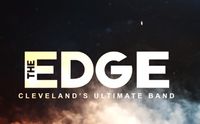 rings coming out of Rick Matis' ke

yboard and you have the makings of one exciting band!
---
Client Compliments
Wonderful comment received from last Saturday's wedding (5/04/2019) at Blue Heron, Medina, OH.
Hi Rick,
Dianne and I want to thank you and your band for the GREAT job. Obviously the music was awesome. The guests never stopped dancing. Furthermore, thank you for working with us on having the wedding outdoors and then indoors. (That was stressful for the Richards - LOL). The night was too short. As they say " Time Flies when you are having Fun"
...
Dianne and will surely recommend you to anyone who is looking for a band to play at their event.
Kind Regards,
Clark and Dianne
for daughter Mariah and her husband: Heath Reichenbach
Thanks again, and great job last night, you guys rock...
Tony Kessler, Commander - American Legion Post 572
First Responders Appreciation Event - October 20, 2018
Thanks, Rick!  We really enjoyed having your band play on our big day - it was a great day had by all.  Look forward to seeing you guys live again soon.  
Brittany and Tyler - Sapphire Creek Winery, Oct 6th, 2018
"WOW! This band is the best!  They play a variety of music and their band leader, Rick, made sure that he got all our music preferences/requests.  They kept the party moving and their music got our guests out on the dance floor.  Many commented on how much they liked this band!  I would definitely recommend The Edge!" 
Comment from: Annette Bader 
Ryan and Penn's wedding reception – September 22, 2018
Dear Rick, Angelina, Bob, Mike, Dan and Jeff,
Thank you, Rick and the Cutting Edge, for making our daughter's wedding extra special. Fron the songs you learned for the first dances to keeping the dance floor filled until the final song, we are so pleased that you were part of the celebration.  We received countless compliments from our guests on how much a live band adds to a party and how great you all were. I have to say you sounded incredible. The groom initially thought you were playing a recording of their special song (and so did I) until he saw that you were performing it!  We don't know when, but we'll likely have one more wedding in our future and most certainly will be looking to book you again.
Best regards, 
Matt & Terri Sivik
June 6, 2017 - wedding
Our members could not have been more energized by your performance on Saturday! You were a complete success and added to the overall excitement of the evening. I have never seen so many of our members enjoying themselves, dancing the night away. The compliments were overwhelming at our regular weekly meeting today. Members were already requesting you for next year. You exceeded our expectations in every way!

Please feel free to use us as a reference. We would be happy to share our experience, as well as our intention to have you for our event next year.

With warmest regards,
Michelle Hauser
President-Elect, Willoughby Rotary Club
---
Hi Rick,

You played for my daughters wedding on June 23rd (Ashley and Shaun) at Medina CC. Our friends and family are still buzzing about the music at the wedding. You were terrific. We hope that you had fun also, hopefully feeding off of the energy from the guests. We just got the videos from Ashley and Shaun. What an awesome night. Your group made it that way. I don't know how to say thank you enough.

I periodically go to your website to see where you are playing. We will be coming to Carrie Cerino's to see you.

I also see that you must have recently booked New Years at St. Ambrose in Brunswick. Is this open to the public and do you have a contact for us to be able to get tickets? We are interested in bringing a group of people. Thanks again for a great night that many will remember for a long, long time.

Bill Franz