Thank you for the Compliments!
---
Thanks again, and great job last night, you guys rock...
Tony Kessler, Commander - American Legion Post 572
First Responders Appreciation Event – October 20, 2018
Thanks, Rick!  We really enjoyed having your band play on our big day - it was a great day had by all.  Look forward to seeing you guys live again soon.  
Brittany and Tyler - Sapphire Creek Winery, Oct 6th, 2018
"WOW! This band is the best!  They play a variety of music and their band leader, Rick, made sure that he got all our music preferences/requests.  They kept the party moving and their music got our guests out on the dance floor.  Many commented on how much they liked this band!  I would definitely recommend The Edge!"
Comment from: Annette Bader
Ryan and Penn's wedding reception – September 22, 2018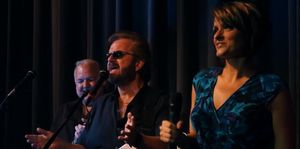 Dear Rick, Angelina, Bob, Mike, Dan and Jeff,
Thank you, Rick and the Cutting Edge, for making our daughter's wedding extra special. Fron the songs you learned for the first dances to keeping the dance floor filled until the final song, we are so pleased that you were part of the celebration.  We received countless compliments from our guests on how much a live band adds to a party and how great you all were. I have to say you sounded incredible. The groom initially thought you were playing a recording of their special song (and so did I) until he saw that you were performing it!  We don't know when, but we'll likely have one more wedding in our future and most certainly will be looking to book you again.
Best regards, Matt & Terri Sivik - June 6, 2017 - wedding
The most entertaining band I have seen in a long time. Easy to work with and fulfilled every wish we asked. Two weeks later and everyone is still talking about them. The dance floor was packed for all four hours. Would use them again in a heart beat!!! Thanks so much for making our night very special. Great job! Great fantastic fabulous and very entertaining and very talented! Bryce and Kym Custer - June 22, 2013 @ Vosh

"Just wanted to drop you a line to say how AWESOME you all sounded at this wedding May 25th - You had everyone dancing and made my job as photographer a lot easier!  Absolutely great band - I wish you covered weddings down here in South Carolina too!  Congratulations on a job well done!" Photography by Andrea Knapp - May 25, 2013 @ Blue Canyon

"Simply put this band rocks. We must have been told 50 times by our friends and family that, "the band was great". They were so flexible with our requests on music, first dance song, even allowing a friend of ours to join them for a song. Rick did great job with the introductions and we look forward to seeing them play again soon. The dance floor was packed for every song, can't imagine our wedding without having such great entertainment." Brian and Erin Pender - October 16, 2010 @ Cleveland Renaissance

"Everyone had the most wonderful time and loved the band!! We are still, 2 months later, getting comments about how "awesome" the band was... My sister is getting married in 2012 and they have already booked RACE!! I recommend RACE to everyone!!! Made my wedding day unforgettable and a blast!" Lynn and Bryan Baranowski - September 25, 2010 @ Blue Heron Golf Club, Medina

"Rick & the Cutting Edge did a fantastic job at our wedding. The dance floor was full the entire night and everyone knew the words to every song they played! Guests sang along and played the tambourines that were passed through the crowed. I would highly recommend them for your wedding reception and I personally will keep them in mind for events in the future." Nick and Christina Rennillo - August 14, 2010 @ Shaker Heights Country Club

"RACE was outstanding and made our party a lot of fun. They are perfect for a wedding or any other party and were extremely professional, personable and talented." Zach and Kate Weil - August 7, 2010 @ Hawthorne Valley Country Club, Solon

"Thanks for doing such an amazing job at our wedding! Thank you especially for learning our song! It sounded great! Your band received countless compliments from our guests! You had everyone up and moving and the dance floor was constantly packed! Everyone had a blast! Thanks for making our reception so much fun! The variety of songs you play is outstanding! Can't wait to hear you guys again! I have many more people that can't wait to come to Carrie Cerino's to hear you play! See you soon!"  Joel and Megan Ficzner - June 26, 2010 @ Ridge Manor Party Center

"...both Katie and I just wanted to send an extra thank you and message of appreciation for you and your bands efforts at our wedding. We have heard multiple comments from nearly everyone attending that one of the biggest highlights for them was the band. Many have said it was by far the best one they've ever seen at a wedding. Everyone loved the diverse songs and high energy provided throughout the night.  Having looked at your song list and seen the videos online I had very high expectations. You definitely exceeded anything Katie or I could've ever dreamed of.  The emceeing was great and the songs were awesome. You were a huge part of making our day so special. So thank you." Patrick and Katie O'Connor - June 12, 2010 @ The Bertram Inn, Aurora

"Dear Band-  I cannot thank you enough for making our party special. The guests complimented through out the night on how wonderful, fun, and professional the entire band was. The song selection was fresh and kept us dancing all night. And those girls rock!~ Thank you again.  Sincerely," Mickey and Marlene - June 5, 2010 @ American Legion, Parma Hts.

"Rick & the Cutting Edge was the perfect choice for our corporate gala. The band was flexible in their timing and worked around our schedule. In addition, they were able to get our guests on to the dance floor and everyone had a wonderful time!" Carla Valyko, Ohio College of Podiatric Medicine Glass Slipper Fete - May 29, 2010 @ Embassy Suites

"Thank you for playing the Tango for us last night. Your group is great and we really enjoyed ourselves. This is the third year for this event and the best yet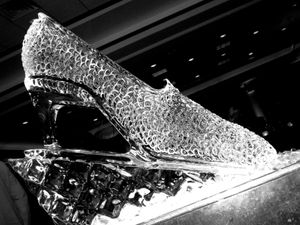 because of your group. I'll watch your schedule and see you again. Thanks again and keep up the great music and variety."  Bob Norton - May 29, 2010 @ 6th Annual "Glass Slipper Fete" presented by Ohio College of Podiatric Medicine, Embassy Suites Hotel

"Rick, Hello, wanted to send a quick thank you for the performance on Sat. Greg and I had an amazing time dancing the night away! We both love music, and feel having a great band made our wedding excellent for us and the guests. Best, Andrea"  Andrea & Greg Plichta - May 15, 2010 @ Cleveland Renaissance Hotel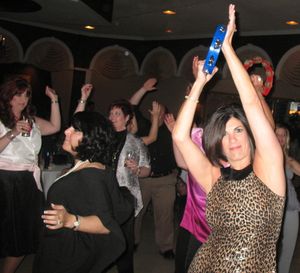 "Everyone just loved the band! Your selection of songs...your strong male and female vocalists were outstanding....we definitely want you back next year...We can't wait..." John Zito, Solon Italian Club  - April 17, 2010 @ Casa Di Borally

"Rick, All I can say is "WOW!" You guys were amazing at our wedding! Thank you so much for everything and we will be in touch soon! We're off on the honeymoon! Please let everyone in the band know that we enjoyed everything you did so much! Take care,"  Jessica and John Mayer - August 29, 2009 @ The Hillbrook Club

"Best wedding band ever! We are so glad we hired you for our special day. We couldn't have asked for anything more. The music & song choices were perfect. We got so many compliments from family and friends about the band we chose for the reception. To anyone thinking about a band for your wedding or special occasion.....stop thinking. Hire Rick & the Cutting Edge. They are fun, flexible and sound great. You won't find anything better. Thanks again for a great performance & memorable night," Damon & Jenny Willaman - August 8, 2009 @ Hilton Garden Inn

"Our whole family is looking forward to Saturday! We have had so many guests from the last weddings rave about Rick and the Cutting Edge. You really helped to make the evening even more fun. Everyone is excited that you will be at Jessi and John's wedding too. This will be number three. See all of you tomorrow. We can't wait!"  Rosemary Zatroch (Mother of both Brides) - July 18, 2009 @ The Hillbrook Club and August 29, 2009 @ The Hillbrook Club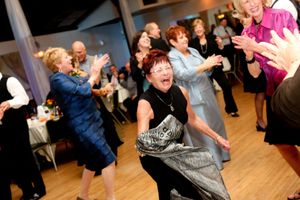 "We cannot thank Rick & the Cutting Edge enough for making our wedding unforgettable!!! The dance floor was never empty and guests are still commenting on how fabulous they were! Thank you for making our wedding the BEST night of our lives!!" Megan Pavlik Soukup - July 11, 2009 @ The Galaxy Restaurant

"Hello, Thanks so much for playing at our wedding! We had so many compliments about how wonderful your band was. I do have a suggestion for the future. Chris and I were talking about how it would have been really cool to get a recording after our wedding of all the songs you played as a keepsake to remember because the music was awesome and it would bring back so many memories from the wedding. I don't know if it would even be possible for your band to do that, but I think that a lot of brides and grooms would love it!  Again, thank you for everything! Your band was so awesome, it totally made our wedding perfect! Thank you," Amy & Chris Garey - June 27, 2009 @ The Bertram Inn

"Hello! I was at the Garey/Biedenbach reception you played this past weekend. What a great job! You are probably the best local band I have ever seen. Matter of fact, I would love to come out and see you again."..."I will obviously check your site again. Thanks - Dan" June 27, 2009 @ The Bertram Inn

"The band did a great job for our wedding. We got so many compliments from guests about their music variety, energy on stage, and talent. If we got married again, we'd hire them again!" Erika & Michael Wolford - May 23, 2009 @ Barrington Golf Club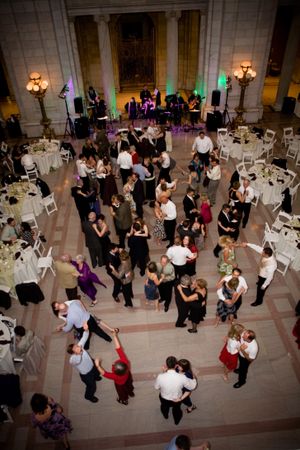 "Rick and the band were absolutely fabulous to work with. We could not be more proud of choosing them to play at the Courthouse for our wedding May 16, 2009. They kept the dance floor full and played an extremely difficult venue flawlessly. We heard only positive comments from a very diverse crowd. Rick even thought of many things that we forgot about along the way that helped us out. One of our friends even said, "I'm not a dancer, but this is the best wedding band I've ever heard." Rick and the band had him out on the dance floor all night. Thanks so much for all of your work. Hopefully we'll get to dance to your music again soon!" John and Katie - May 16, 2009 @ The Old Cleveland Courthouse

"My wife and I had very high expectations for the band and they exceeded them. Our guests throughout the evening wanted to know who they were and how we found them. They all were really impressed by their performance. The band set the mood for our party. They were simply great!" Dean Chimples (Janet Chimples & Vasili Kosteas) - May 9, 2009 @ Cleveland Renaissance Hotel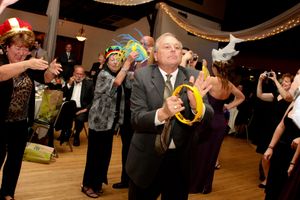 "Rick and the Cutting Edge was outstanding. They played the music we requested exceptionally well and it resulted in the dance floor being full the entire night. I have received rave reviews from my guests on the outstanding band. Thanks for making our wedding even more memorable." Maura (Mansour) DePrisco - Dec. 27, 2008 @ Ritz-Carlton

"Just wanted to thank you for a fabulous time at my wedding. We are getting all kinds of huge compliments about you and your band. Everyone loved you! It made the wedding even more special to have everyone up and dancing and having a great time. You and your band do a fantastic job reading the audience and making sure they all had fun. Thanks! Many thanks for everything, it was a pleasure having you as part of my special day!!" Jeanette (McGrath) Strainic - Nov. 1, 2008 @ Signature of Solon

"Rick and the Cutting Edge exceeded my expectations! They went above and beyond to accommodate my requests and did a fantastic job at executing them. Our dance floor was packed the ENTIRE night!" Melanie Slattery & Joe Grussenmeyer - Oct. 11, 2008 @ St. Noel's

"Our members could not have been more energized by your performance on Saturday! You were a complete success and added to the overall excitement of the evening. I have never seen so many of our members enjoying themselves, dancing the night away. The compliments were overwhelming at our regular weekly meeting today. Members were already requesting you for next year. You exceeded our expectations in every way! Please feel free to use us as a reference. We would be happy to share our experience, as well as our intention to have you for our event next year." With warmest regards, Michelle Hauser, President-Elect, Willoughby Rotary Club - Oct. 4, 2008 @ Kirtland Country Club

"Matt and I both wanted to thank you so much for playing at our wedding. You guys were fabulous! We got so many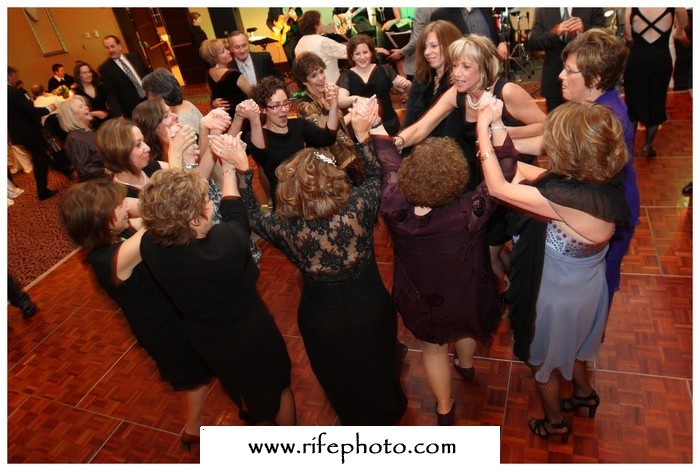 compliments throughout the night and after from our guests. We will definitely recommend you to other friends and family. Thank you again!" Sarah & Matt Delly reception - Sept 27, 2008 @ Sammy's at Legacy Village

"Rick and the Cutting Edge were fantastic. Our guests were dancing from the first song to the last. They were great!" Sheri Kilarsky & Rick Terens - Aug. 16, 2008 @ LaCentre

"Everyone really enjoyed all the music selections - young, old, as us 80's fans. Our guests say it was the best wedding they have been to." Scott & Jennifer (Stober) Loomis - Nov. 3, 2007 @ Massimo Da Milano

"Our guests thought the band was the best reception band they had ever heard. Guests danced from the beginning until the very end! We were so happy with our choice." Carolyn Schmidlin (Mary Schmidlin & David Peterson) - Oct. 27, 2007 @ Fairlawn Country Club

"Wow! Rick and the Cutting Edge band were fantastic! The dance floor was consistently filled with guests having a great time. Live band music is the way to go for an enjoyable wedding!" Georgine Berman (Mark Monroe & Tammy Martz) - Oct. 20, 2007 @ Myers University Club

"Rick and the Cutting Edge did a fabulous job! The night ran smoothly and the dance floor was filled as soon as the first dance was complete...and stayed full until last call. Thank you for making our wedding celebration so fantastic!" Mike Wlaszyn & Lindsey Gray - Sept. 29, 2007 @ Todaro's Party Center

"You made our daughter's wedding magical. Rick had all the guests dancing up to midnight. Rick is truly a gem to work with." Sharon Skotko (Allison Skotko & Matthew Hanselman) - Aug. 18, 2007 @ Blue Heron Golf Club

"We needed to write to you about the wonderful experience at our daughter and son-in-law's wedding. This was quite a traditional Slovenian wedding. Your song selection, including the three sets of polkas, certainly got everyone on the dance floor! We most enjoyed the fact that you tailor-made the song selections according to your observation of the crowd." Jim and Mary Anne Burya (Amy Burya & Bill Bambic) - June 29, 2007 @ Pine Ridge CC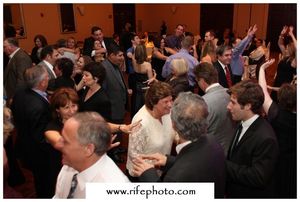 "The band was excellent! They sounded great, and all of our guests loved them! We would definitely recommend them to anyone planning a wedding or any other event." Megan Mathews & Brian Greulich - June 2, 2007 @ LaCentre

"...instrumental in making Hillary and Craig's wedding reception run smoothly and made it lots of fun for everyone. I highly recommend this band. They are wonderful." Vicki and Margus Sweigard (Hillary Sweigard/Craig Evers Wedding) - May 19, 2007 @ St. Noel's

"...terrific. They made the night very memorable. The group blended well together and were very professional. Great job!" Linda Melia, Mother of the Bride, Emily - April 14, 2007 @ Chenoweth Golf Course @ Banquet Facility

"Las Vegas style, quality entertainment." James Pavlik - July 15, 2006 @ Croatian Lodge

"Energetic, fit in with atmosphere, felt like they belonged." Alwyn Reuther - June 3, 2006 @ Myers University Club

"Andrew and I were very pleased with the performance of your band. Erika and Joe, along all of us danced the night away, and we truly enjoyed your music and your professionalism. Thank you for coming through for us on such a very special day, for such a special occasion in Erika and Joe's life!" Anita and Andrew Sandor (wedding reception of daughter, Erika and Joe McDonnell) - Aug. 12, 2006 @ Severance Hall

"You played for my daughters wedding on June 23rd (Ashley and Shaun) at Medina CC. Our friends and family are still buzzing about the music at the wedding. You were terrific. We hope that you had fun also, hopefully feeding off of the energy from the guests. We just got the videos from Ashley and Shaun. What an awesome night. Your group made it that way. I don't know how to say thank you enough..." Bill Franz

"We realize that this is a bit late, but we needed to write to you about the wonderful experience at our daughter and son-in-law's wedding. Amy and Bill Bambic were married at Pine Ridge on June 29. Rick and the Cutting Edge helped to make their wedding a fabulous event! If you recall, this was quite a traditional Slovenian wedding. Your song selection, including the three sets of polkas, certainly got everyone on the dance floor! Your decision to have a "strolling accordion" was very well received by all. We most enjoyed the fact that you tailor-made the song selections (whether it was a polka or "Paradise by the Dashboard Light"), according to your observation of the crowd. Most of all, we (the parents of the bride) were able to enjoy the wedding due to your expertise. Relatives and friends are still raving about Amy and Bill's wedding. Our compliments and thanks to you and the band for a wonderful wedding. We have three more children, so you may be hearing from us again!" Thanks again, Jim and Mary Anne Burya

"Let me just say that you are the best out of all our vendors! I love the communication- at a stressful time like planning your wedding, it's nice to know that the people you are paying really do want to make your day special and you have made me feel that way! Thank you for that!" Annie & Wes Palmisano

"Band,....I wanted to thank you for doing such an incredible job at my wedding. My husband and I have received so many compliments on the music, and all of our guests had a wonderful time. We had such a perfect night (except for extreme exhaustion towards the end!) and I just wanted to let you know how happy we were with you guys. I'll absolutely be recommending RACE to any of my friends with upcoming nuptials! Thanks again, and it was great meeting you!" Sincerely, Dana (Poplar) De Santis

"Thanks to you and the band for helping us to celebrate our daughter and son-in-laws special day! You handled all the festivities (bridal party introductions, father-daughter dance, bouquet and garter toss, etc. just as they had requested and with gracious humor and poise! All the music we wanted was played and we danced all night! It was a fabulous evening for which we thank you!! Thank you so much!" Joe and Cindi Ferrini

"Just want to express again my huge admiration for Rick and the Cutting Edge! What a fantastic job you did. Everyone was thrilled and amazed you had such a talent. I don't know how you are able to produce such quality with a full time job too!. Your "Frank" voice was perfect. Thanks again. I am in awe." Martha Brooks, CEO of Novelis Corporation - Annual December Holiday Party - InterContinental Hotel

"Rick & The Cutting Edge was absolutely phenomenal! All my guests commented that they had not heard a band as entertaining in a very long time!" Jennie Nichols

"Jerry – Great Band. Thanks for picking them. I would use them again. I also recommend them to my daughter who works at the Greater Cleveland Partnership (COSI)." Ron McCullough

"I believe the music is one of the most important parts of a wedding reception. Rick & The Cutting Edge and Jerry Bruno Productions definitely helped make our wedding perfect! Rick and his band members were very polite and so much fun!" Jane Reidy

"Jerry you've done it again! The entertainment couldn't have been more outstanding. Rick & The Cutting Edge had our group up and moving till midnight! Thanks Jerry for making this happen. It was an awesome night for Phil." Lauren Spilman

"Our guests raved about the band. Many said it was the best they had ever heard in all the weddings they have gone to. We are still getting comments about them 6 weeks after the wedding. The vocalists were superb!!" Tom Wearsch

"Rick and the band, Thank you for doing so much to make our daughter's wedding reception (July 3) so much fun and so memorable. Musically, you are all wonderful. Your versatility and adaptability allowed you to mesh perfectly with what our family and friends enjoyed. Many people told us how impressed they were, asked how we found you, and wondered how to get in touch with you. We were happy to share that info. You said you thought our daughter, the music teacher, would give you a grade at the end of the evening. Well, a lot of us in the family are teachers, and we all agree that you get an A+."

"I, as well as the entire Solon Italian Club, would like to thank you and the band for a wonderful evening on Saturday, April 24th at the clubs annual reverse raffle held at Casa DiBorallys. The band helped make the event memorable, making it a complete success for everyone who attended."

Our family and friends represented a diverse group. Whether it was today's current hits, the standards, or the best from the 50s, 60s, 70s, 80's and 90s, Rick and The Cutting Edge played it. The dance floor was busy all night long. We especially appreciated Rick's MC skills...they really set the stage!" You'll love'm!  - Chuck Mackey 
Hi Rick, 

 

Thank you so much for everything yesterday! It was a perfect evening and we appreciate you being there. You did an amazing job and we received a ton of compliments. 

 

Christine & Jesse, Springvale Ball Room, N Olmsted.  12/16/17